@etsy
In recent years, there has been a real craze for a style of decoration that is both ethnic and chic, which gives a unique and very personal character to each interior.
How to define an ethnic-chic decoration?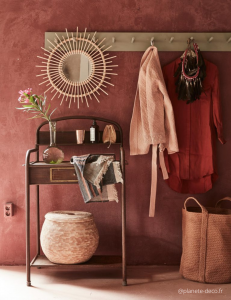 The ethnic-chic style is characterized above all by a serene and warm interior, where many objects tell a story, yours, or that of other peoples, and which invites to travel. The ethnic-chic decoration mixes influences and elements from different cultures and times. It's also a mixture of colours, textures and patterns. It's all about harmony. This style makes it possible to create an interior that looks like you, since it is partly composed of objects or furniture that carry meaning. Whether because they relate to a moment in your life, because they have been mottled or brought back from a trip, or because they were crafted by peoples whose original and sometimes ancestral know-how allows each object to acquire a rich and unique character.
More sober than a purely ethnic or bohemian decoration, we generally choose as a base of raw materials and natural colors and we add some accessories or colorful furniture, with a unique design and loaded with history. The main thing is not to overload, to preserve the chic side.
Who says ethnic-chic also often means ethical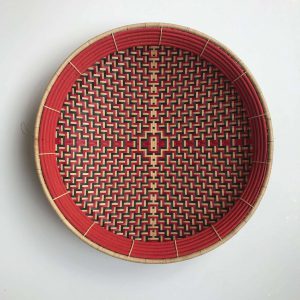 Indeed, when we seek to create an interior of ethnic chic style, we are most often looking for exceptional pieces, handmade, with unique processes, and we favor natural materials. Thus we value ancestral know-how, techniques respectful of the environment, which make the craftsman the unique master of his creation since they are not objects manufactured in series, in factory and for the sole purpose of satisfying the desires of a consumer. Such objects allow its author to benefit from a fair remuneration: because they take time to manufacture, because they are not manufactured on a production line, and also because the buyer is often well aware of the value of the work that exists behind each object and is willing to pay a higher price than for an object manufactured in series to hundreds or thousands of copies.
Need inspiration?

A sleek interior, customizable to infinity, with a base of light tones ideally, but not necessarily. Wooden furniture, or with neutral tones and touches of color with
unique pieces coming from far. You can decorate each room of your interior. Just add a few ethnic baskets and a handcrafted rug in a white-toned living room.Add on a bed cushions to ethnic covers and dress your walls with, for example, wall baskets like those made by the Amazon ethnic Wakara, of which you can find some models on our website.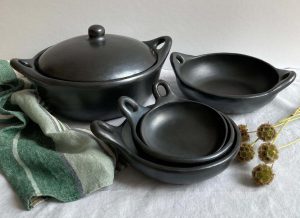 The ethnic chic style can also be invited in your kitchen: whether using storage baskets brought back from a trip, or using dishes with a unique style like the one made by hand in Colombia, in the village of La Chamba, which will give your dishes a unique character.